Breakbulk Shipping
Home > Breakbulk Shipping
While most people will largely never deal with anything pertaining to breakbulk cargo shipping, the transportation of break-bulk items and bulk shipping is largely part of everyday life with individuals and businesses in fields like international mining, motorised vehicles, and even large scale agriculture.
When the need arises to move cargo or ship breakbulk items like construction equipment, mining heavy machinery shipping, and infrastructure project shipment to ports in North Asia and the Middle East ports, the services of experts in various breakbulk cargo operations become indispensable. This is where TSL Australia comes in.
With an extensive menu of various services where break bulk cargo shipping is concerned, we have the answers to every cargo and break-bulk operations question you might have.
From providing quality services and assistance with the unloading process to helping you conduct feasibility studies on what to expect with your project cargo shipment, and assisting with the application process for oversize permits and escort services, we help see to it that you cover your basics effortlessly.
Whether your cargo needs specialised equipment like lift cranes when you ship or the items you're shipping like mining equipment and construction equipment and the goods require special handling, packing, and labelling from port to port, we ensure that your break-bulk shipping experience goes pleasantly.
Even when the cargo you want to be transported are barrels of heavy machinery parts, the type of barge or container ships and vessels used to ferry these goods and items are well cared for on arrival at their due ports.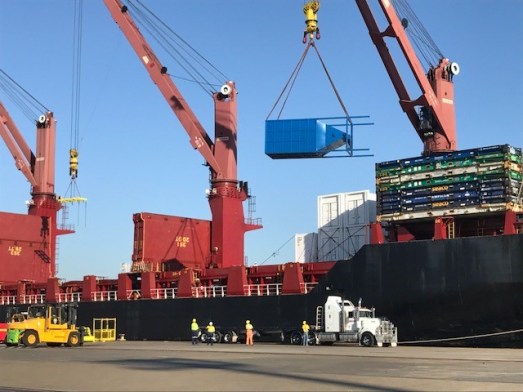 We understand the need you have to move vehicles from time to time which is why we also make the shipment of cars, boats, and other vehicles from anywhere in the world an easy affair, even for first-timers.
Here are some heavy machinery shipments across the world we've dealt with successfully over the years.
Terms in Bulk Cargo and Break-bulk Freight Shipping
Some words you simply must be familiar with in the space include phrases like break bulk, cargo, bulk, and unitised cargo, among many others. We'll be explaining in detail what these words mean and how they are applied in the international shipping industry subsequently.
What Does Breakbulk Shipping Mean?
At its core, the term breakbulk shipping is one that is derived from the fuller phrase, "breaking bulk", and is concerned with the movement of specific cargo and goods. Depending on the exact nature of the break-bulk cargo items you want to ship, you might have to choose whether you'll require RO-RO shipping services, shipping containers, or bulk carriers to see the goods to any terminal or dock you plan to export them.
When you're still in the process of familiarising yourself with the terminologies used when breakbulk shipping certain types of cargo and goods, like cars, boats, and other heavy machineries, it is easy to mistake the freight resources you need to transport a few breakbulk items, which is why the expertise of an agency like TSL Australia comes in handy when you want to transport goods like these.
Primarily, when the phrase breaking bulk comes up in cargo shipping, it implies that the cargo you want to ship may likely be moved using bags, barrels, and in some cases, even crates or boxes. These tend to even require lift cranes in some cases for the loading and unloading process at the ports.
At TSL Australia, some goods and project cargo we can itemize and ship in the breakbulk category include but aren't restricted to vehicles likes cars, boats, yachts, mining and agricultural equipment, factory relocations, power stations, and construction equipment. Any large portion of equipment or pieces of a machine that happen to be oversized also fall under break-bulk cargo and goods class and are considered as such.
These cargo are usually heavy-lift onto a ship during the loading process. To heavy-lift, any item onto a ship requires the touch of a professional so that the parcel isn't damaged in the process.
The loading and unloading process for cargo and goods of this nature can be challenging, which is why it always pays to call on the services of professionals with the experience to do the heavy lifting for your break-bulk cargo and goods.
We use the fastest vessel to ship to any port or terminal our customers want us to dock, be it in the Middle East or North Asia, and ensure that the project cargo and goods undergo careful packing, labeling, and handling during the unloading process.
What is Bulk Cargo Shipping?
When faced with the question, what is bulk cargo, it is easy to misconstrue the terms "bulk cargo" for breakbulk shipping goods or items. In reality, simple this phrase is quite different from breakbulk cargo.
Typically, the phrase breaking bulk goods or cargo in freight shipping is what is used to describe goods and cargo which aren't compartmentalised but are rather loaded directly into shipping containers for shipment.
While a wide array of goods and cargo fall in this category, the most common examples of items transport agents are known to ship here are usually motor vehicles like cars, boats, yachts, and even large ships. Other common cargo in this category may include oil, bags of grain, and iron ore.
Even before considering the best bulk ships, or transport vehicles to use for the movement of your break-bulk equipment, at TSL Australia, we always encourage our first-time customers to factor in the nature of the cargo and goods first.
Anyone who has been involved in the shipment of cargo or goods like these knows that they need special handling to ensure that they arrive at their destination port, terminal, or dock in perfect condition. For that to happen when moving bulk ships, experience on the part of the bulk shipping agent is vital.
With our services at your disposal, bulk shipping precious goods and cargo successfully is assured because we only use barge or vessel with containers that have been specially constructed for these tasks.
First, we gauge the nature of the goods and cargo you want to ship. For instance, the bulk carriers or container ships we use for the transport of boats and other vehicle cargo are never used in the transport of oil goods.
What is Unitized Cargo?
As we said earlier, not all breakbulk cargo items will readily fit into barrels or boxes in bulk carriers. Unitized cargo is the phrase used to represent the types of break-bulk shipping cargo that can be transported in barrels in break-bulk operations. More than this, however, you can also use the phrase unitized cargo to describe grain or oil goods in bulk ships purely for the purpose of facilitating easier containerization services.
Some unitized cargo we have packed, labelled, and secured shipment permits for to various ports in the world in the past include,
The Liebherr slotter machine,
4x John Deere cotton pickers,
Farm Rotary Dum Dryer machines and parts,
Drill rigs,
Solar power farms, and
Specialised power plants, to mention a few
To Ensure Better Motor Vehicles Break Bulk Shipping in Australia
Knowing what service you need for moving any cargo in this department is the best way to ensure that you don't encounter any difficulty when transporting breakbulk cargo.
Before delving further into the type of ship vehicles, cargo ships, ore carriers, or bulk vessels used to move your cars, boats, barrels of any portion of the equipment, infrastructure projects, and power stations, (and other cargo excluding oil and grain) it is important to distinguish clearly between terms like basic cargo goods and breakbulk cargo pieces.
When you properly identify where the cargo you want to ship or export fall, you can better determine whether you want the services of our break-bulk ships, RO-RO services, or simpler cargo ships. Knowing the right phrase to use and what terms to employ when breakbulk shipping can do much to improve everything from your shipping experience to the unloading process at the ports.
In terms of the services we provide customers who plan to ship or export boats, cars, or valuable bulk cargo items, or heavy breakbulk equipment, we never fail to see to it that you get nothing short of the best, regardless of what you need when you need it, and how you need it.
What is the Difference between Bulk Goods and Break Bulk Cargo?
The first and most important distinction between bulk goods and break-bulk cargo lies in the form in which each of these goods and cargo are transported. While bulk goods items are shipped as a whole, for instance, cars and boats, most breakbulk cargo and equipment like mining and large-scale agricultural equipment and power stations are transported after being divided into units such as barrels or boxes.
However, it bears mentioning that in a few cases, breakbulk cargo and equipment don't all fit into barrels or units.
All rights reserved. Some break-bulk shipping cargo may involve large portions or irregular-sized pieces of machinery, especially if the cargo is oversized and overweight. In which case, barrels aren't used.
This also leads to another definition of break-bulk shipping, which is the movement of goods and cargo that cannot fit in the largest containers for bulk shipping.
Another difference between bulk shipping items and breakbulk cargo is in handling as many breakbulk goods will require the services of cranes for the loading and unloading process of containers from the vessel.
One important reason to leverage the services and experience of TSL Australia is that break-bulk shipping is now a specialised affair as not many international shipping companies are up to gauge with handling such a task.
What's more, securing oversize permits and all necessary entry and exit documents for these types of items demands a unique touch. Our network ensures we pull this off with minimal effort and delay, making us the right choice for your car, boat, or specialised cargo movement.
Our decade-long experience in bulk shipping and break-bulk shipping puts us in the best position to offer you freight services that won't damage your breakbulk equipment or lose your cargo while bulk shipping.
We secure your breakbulk cargo firmly tween decks and employ the services of skilled professionals when using cranes in the unloading process.
The Best Sea Freight Forwarder for Cargo Operations
Be it simply bulk shipping consultation services you require or you want break bulk services to move an important portion of your project cargo or various motor vehicles to the Middle East or North Asia in whole or in part, you need services that don't make excuses.
Examples of the type of resources we can put at your immediate disposal include,
Container ships,
Bulk carriers,
Fast RO-RO shipping services,
Bulk vessels, and
Cargo ships, to mention a few.
When you look through our menu services and you choose what type of bulk shipping or breakbulk service you want our sea freight to handle for you, we call on our wealth of experience, complemented by numerous feasibility studies to ascertain the best course of action for your cargo and goods.
We don't just shove your cargo or goods tween decks. Our operatives look after the items in our care with every degree of professionalism. Our sea freight services are fully insured, meaning when you carry out bulk shipping with us, your breakbulk equipment is always safe, no matter what.
Cargo you can trust us to ship range from,
Cars,
Boats and Yachts,
Power stations,
Solar power farms,
Heavy machinery equipment,
Agricultural machineries,
Mining Equipment,
Any type of vehicle or automobile
Some of our more extensive break-bulk shipping services also cover,
Factory relocations,
Specialised Roll On Roll Off Services,
Infrastructure projects, and
Custom break-bulk shipping orders.
For more on what our services can help you with, reach a TSL Australia operative today. All rights reserved.